The Poetry of Language
the Chinese language is beautiful to the eye
true poetic writing in each stroke
The chinese language is more interesting to me than English.
In fact the way in which it is written is a true art form.
So much so I got this tattoo on my lower back.

it is the symbol for poem/poetry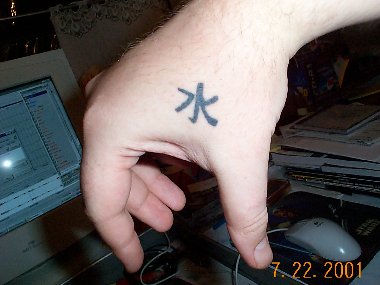 This is Joes tattoo. It's really Japanese for water, yeah Japanese not Chinese on my Chinese page. But fuck...its here because it's Joe's hand!! And this is my page and I can do whatever I want.

This Kanji ideogram is used as a protection charm, specifically a protection against fire.
look at that long ICQ buddy list Joe has!!!!!!!!

click on my name to see what your name looks like in Chinese
click on the below symbol meaning "I dreamt...
for a great site with everything Chinese including
poetry!
I Dreamt I was a Butterfly

One day about sunset, Zhuangzi dozed off and dreamed that he turned into a butterfly.

He flapped his wings and sure enough he was a butterfly...
What a joyfull feeling as he fluttered about, he completely forgot that he was Zhuangzi.

Soon though, he realized that that proud butterfly was really Zhuangzi who dreamed he was a butterfly, or was it a butterfly who dreamed he was Zhuangzi!

Maybe Zhuangzi was the butterfly, and maybe the butterfly was Zhungzi? This is what is meant by the "transformation of things."
by Zhuangzi
[Chuang-Tse]
Remembrance
To what can our life on earth be likened?
To a flock of geese,
alighting on the snow.
Sometimes leaving a trace of their passage.
Su DongPo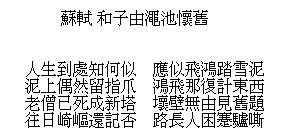 Rememberence in it's original form above.
Love, along with fine wine and the moon, is a favorite topic for the Chinese poets.